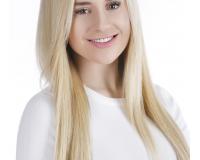 Kaitlin grew up in Frisco, Texas and is a true Dallasite at heart. She has had the opportunity to watch the Dallas area grow rapidly, and can provide insight on the best spots around town.

After living the California dream and earning her bachelor's in Entertainment Business, she is extremely well versed in buying/selling/leasing and she understands the growing importance of social media as it relates to real estate marketing. Clients flock to social media to view properties before picking up the phone to contact our team, and she ensures that clients want to make that call.

Kaitlin, fueled by iced coffee, lives by this favorite quote: "Success is not the key to happiness. Happiness is the key to success. If you love what you are doing, you will be successful."

-- Albert Schweitzer

When she isn't helping you find your next investment property or searching for the home of your dreams, Kaitlin enjoys singing, adventures with her dog, Brody, and spending time with friends and family.
Send Kaitlin a Message